Saturday 18/08/07

Active Slaughter
. Eastfields
Social Parasites

@ Chats Palace Hackney, London

Benefit Gig for North & East London Hunt sabs, Hillside Animal Sanctuary and activists legal defence funds.
We arrived pretty early at Chats Palace that Saturday and with Sindy and Charlotte we entered the place.
I had never been there and I was really positively surprised to see such a well-organised and nice place.
Good atmosphere and nice people.
It's an arts club too and we could appreciate some of the pictures exposed in the corridors, the actual dance floor/stage is fairly wide.
It had happened that the same night there were other 3 punk gigs around so many people were worried not to have a good turnout buuuut the overall outcome of the night satisfied our organisers (and consequently all of us).
I had never seen the bands playing, including (and I should be ashamed of that) the front liners :
Active Slaughter
.
I loved the whole experience of being with other people committed (some more some less than me) to something like Animal Welfare.
All the bands performed well and I have to say that I really enjoyed Eastfield playing and their clever and funny jokes cracked from the stage.
Nevermind
Active Slaughter
. that finally saw live. They rocked up there.
I tried to take some pictures of the night and I did take some videos but they came out corrupted and therefore unwatchable.
The pictures weren't many as I was too much into watching/enjoying the bands to be able to concentrate in picture taking. (next time guys, I'll take more!).
It had been a while since I went out and, there, I felt at home.
Finally it wasn't the same old story, same faces and same conversation to people.
It was a different, useful and constructive night that brought all of us together for a good cause.
I even had a little to drink! ;p
Bad was we had to leave for 11.30 to be able to catch the last train to Highbury&Islington otherwise it would have been a bit tricky to come back on the bus from there.
I personally hope that many people that will read this and that weren't there last Saturday will be present in the next occasion to make it even a bigger success.
Its all for the animals the only living creature that will never betray and always trust us they don't deserve to suffer like they hadn't no value on earth.
Remember they have the right to live as we do and they need to be respected and protected against all of those don't understand this.
Many things changed in the last 20 years and many targets have been reached making life for some animals a little less painful but the fight hasn't finished, there are still many that suffer because of mankind being arrogant and selfish.
There is still many things to do and the more we are the quickest the change will happen.
Each one of us does what we can towards the development of a life based on the respect of each other, human and animals.
We all need to educate people; there is a lot of prejudice and ignorance on the WHY's and HOW's we decide to protect other living creatures and even worst many of the people out there think that their SINGLE effort is worth nothing! Which is not true. IF each one of us makes a little effort things WILL change as they did in all these years.
….
Here's the Bullettin made by Active Slaughter myspace page/Jake Slaughter myspace page to sum up the success of the night.
"
our animal rights gig was a complete success seeing as somebody thought it would be a good idea to put on 3 other punk gigs the same night (when we get so many saturdays in London with not 1 punk gig) we had a great turn out- with people who had travelled from all over the UK to be there


around 200 quid raised split between North & East London Hunt sabs, Hillside Animal Sanctuary and activists legal defence funds

excellent sets from Social Parasites, Eastfield and I reckon we played pretty good 2 :)


a big thanks to everyone who came- your support is well appreciated


a special thanks to Katie and Parastow for helping with the food stall, Dave and Manny for the Hillside Stall, Jon Active, all the staff at chats palace The Sabs for doing the door and just generally being very cool, Eastfield and Social Parasites

Thanks to Elbo for the Active Slaughter pics shame we dont have one of him on the horn hopefully we'll get some sent to us
SOCIAL PARASITES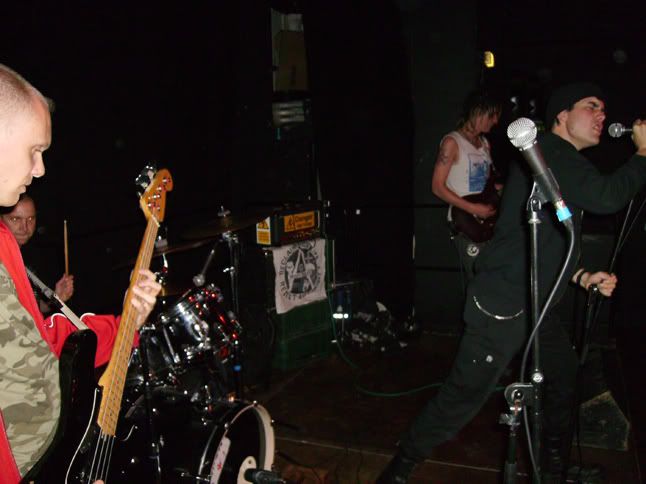 EASTFIELD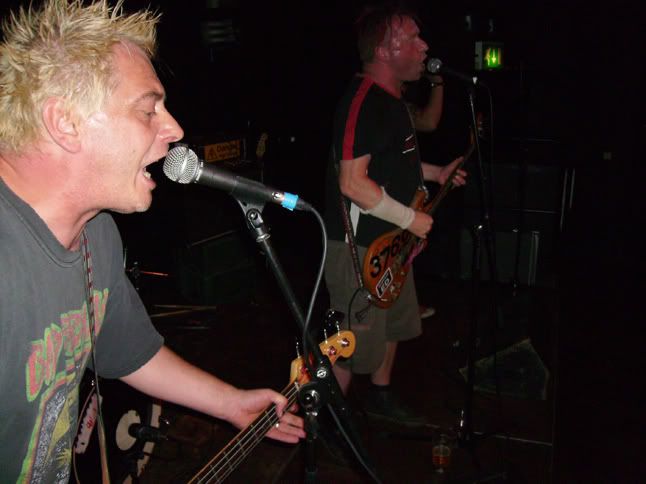 ACTIVE SLAUGHTER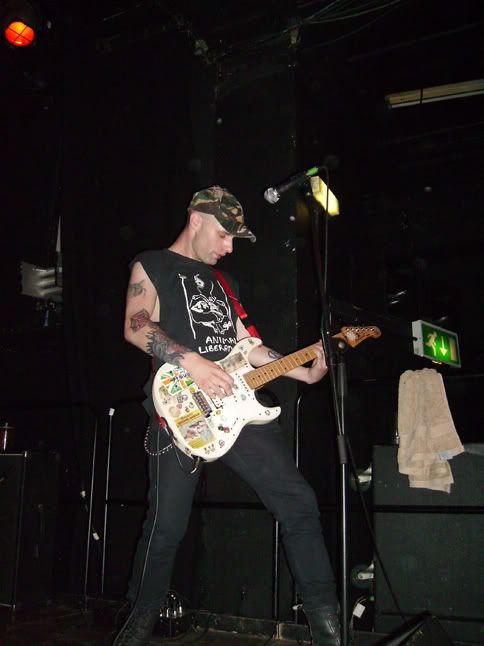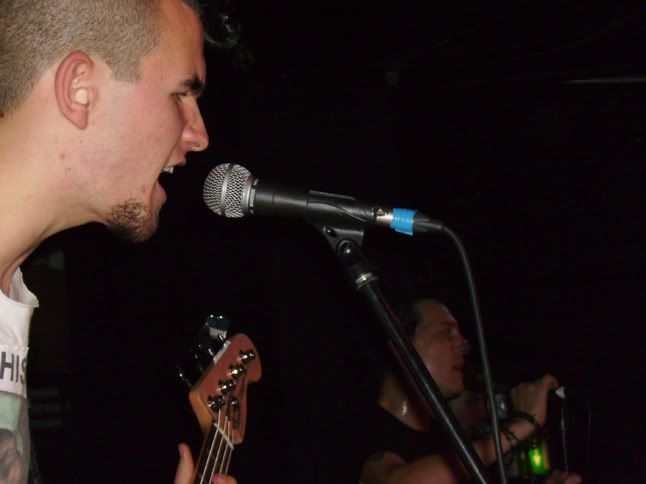 "
meat is murder