hi my darlings..
to brighten up the darkening days.. (for those below the equador, the lightening days) here some nice links to get some real nice music.
KISS OF THE BLACK QUEEN. 11 tracks. noise with tribal elements. with trance elements. and of course the famous dark ritual soundscapes that has become the trademark of KK.
released on a black cdr in an dvd box with full color artwork made by JM of the equilibrium mailorder.
just click on the picture below to get a direct link to Quartier23
if you are cheap and want some stuff for free...
1. THE MAMBO KISS. and yes that is a very romantic title i know... it was inspired by the feelings one can have when the heart wins it over the mind. somemoment where logic gets beaten by feeling.
logic is not always getting you anywhere. so this release is about getting free from logic. to get carried away by feelings.
for a free experience just click on the image below
2. -done in the same way- HAIL THE BLACK QUEEN. i recorded those two in the same period. HAIL THE BLACK QUEEN is more agressive. makes you tear down the walls while THE MAMBO KISS helps you to explore your innerself. just say one for the outer world and one for the inner world.
well try it my darlings...
and if you are searching for some soundtrack for your monofocal sex rituals
try:
SOUNDTRACKS FOR MASTURBATION SESSIONS 3
THE FACIAL EDITION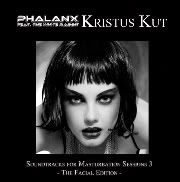 well go download and start your meditiation darlings
muchos lovos
LSB